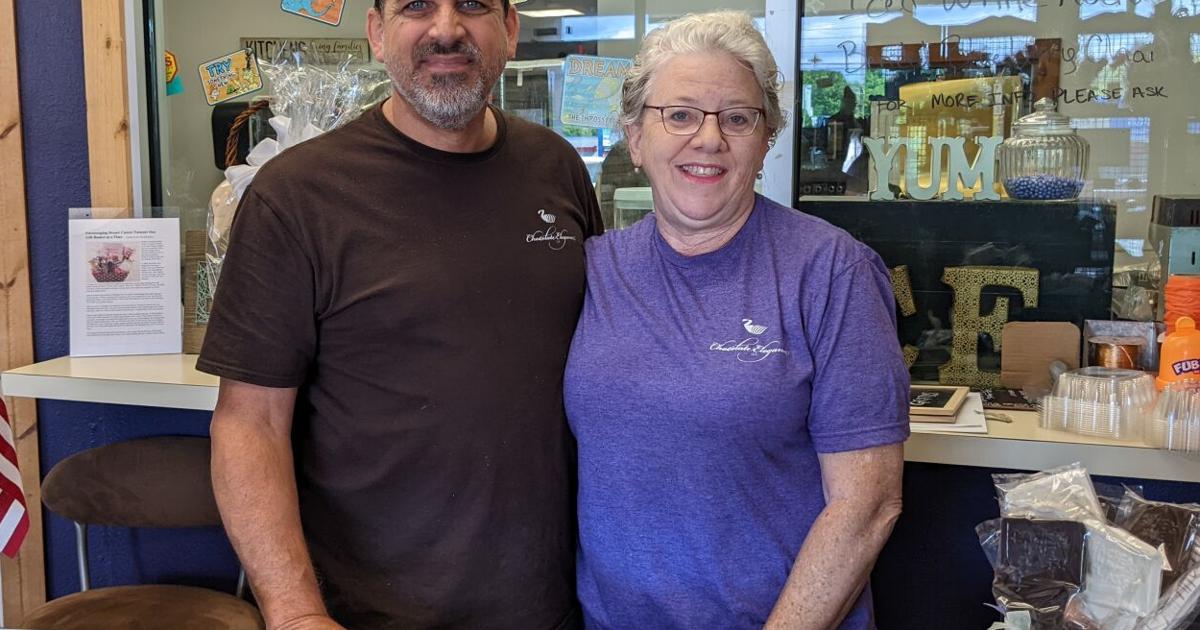 KINGSPORT — If you were to ask Paul and Sandy Vowell why they opted to buy the Kingsport business Chocolate Elegance, their answer would be simple — chocolate makes people smile.
"It puts a smile on everybody's face," Paul Vowell, 58, said sitting in the store on a quiet Thursday morning. "People can be walking through a vendor event looking at jewelry and clothes and all of a sudden they go, 'Chocolate!' Their face lights up. To me, it's rewarding knowing we're offering something they want."
The business, at 1420 E. Stone Drive in Kingsport, offers chocolate gifts and more all made from their special recipe of dark chocolate and white chocolate.
"We use a special blend of chocolate," Paul Vowell said. "A lot of people use almond bark for white chocolate. We don't. Our (white chocolate) is about the closest thing you're going to find to a true white chocolate. We have cocoa fat in ours. And most people think of that bitter taste (with dark chocolate), but ours doesn't have that. Ours has a very rich, smooth taste."
Chocolate gifts, baby shower favors, mini chocolate houses and keys designed to serve as real estate agent gifts and more line the shelves of the shop. And many of the recipes date back to the beginning of the store.
The Vowells opened the Stone Drive location in late October 2021, but the store's history dates back to 1985. Paul and Sandy Vowell bought the business from Bob Scibor in 2015 after the Scibors started the business, which was once located in Gray and mostly catered to corporate clients and participated in fundraising and charity events, holiday and marketing shows.
In 2015, Scibor lost his wife, Jan, who was known for her love of confectionaries, and known throughout Kingsport as "the chocolate lady." Now, Jan Scibor's love of chocolate is a legacy the Vowells aim to honor through the store.
"We bought the business with the idea of carrying on Jan's legacy," Paul Vowell said. "I feel like we've really done that. In the back of my mind, I always have that going on. People still know the business from back then, and they've stuck with us through all those years."
The business is also a family affair; their daughter, Kelly, leads the kitchen, offering up her culinary experience while a lifelong friend from church, one of Sandy Vowell's cousins and the family's neighbor fill out the rest of the small staff at Chocolate Elegance.
"We're family owned and family operated," Paul Vowell said. "It's a family business, even if we aren't all related. We feel like we're related and have been very close for a very long time. We're very blessed to not be hurting for help like a lot of other places because of that."
Paul's background revolves around sales in addition to his construction company and some rental properties.
As for Sandy, chocolate isn't her thing — but it's certainly something her late father, Fred Ketron, loved dearly. He was yet another reason the Vowells jumped at the chance to take on the business.
"I grew up going to Gatlinburg and Pigeon Forge about twice a month," Sandy Vowell, 61, said. "My daddy loved candy stores, candy and chocolate. He would just be driving around in Kingsport and decide he wanted some candy and would drive to Gatlinburg just to get some and come back. I never understood the obsession, but my dad loved chocolate."
"He was probably the inspiration, too," Paul Vowell added. "He was very excited about it. He knew the business could take off as well, I guess because he also loved chocolate and really understood that."
Chocolate Elegance offers more than just chocolate, though. The store offers coffee and milkshakes, candies and occasional pastry items such as cinnamon rolls or fruit pizza.
The owners also look to offer more than just a shop to walk in and pick up a sweet treat or two.
"We've got this homey atmosphere here where you can come in and relax. That's the atmosphere we're trying to create," Paul Vowell said. "There's not really anywhere in Kingsport where you can do this. I want this to be a unique experience for Kingsport where customers can come in, get something sweet and have a latte, espresso or milkshake or take it with them."
The Vowells also added a food truck-style trailer to offer chocolates, milkshakes, ice cream and more on the road at events locally and throughout the region.
Up ahead, Chocolate Elegance will be at the Art and Wine Festival in Cumberland Gap on June 25, the Summer Splendor event in Morristown on July 9, the pre-Fun Fest event at the Farmers Market on July 17 and at Fun Fest's "The Taste" July 20-24 in front of Dobyns-Bennett.
The business is open Monday through Friday from 10 a.m. to 6 p.m. and Saturday from 9 a.m. to 2 p.m. For more information, go to www.chocolate-elegance.com or www.facebook.com/ChocolateEleganceLLC/ and instagram.com/thechocolateelegance/.