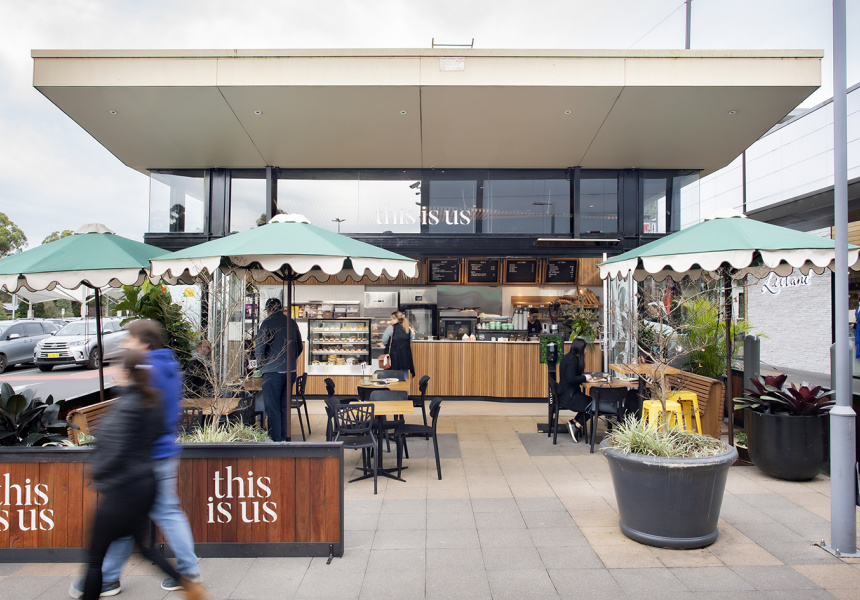 There's something distinctly un-suburban about This Is Us, a new bakery in the north-western Sydney suburb of Cherrybrook. Tall glass walls are supported by black metal columns, an abstract timber structure is suspended from the ceiling, and the counter at the front is neatly stacked with a boutique range of pretty cakes and pastries.
This Is Us was born in 2020 as a sourdough company, supplying sourdough muffins and crumpets to Harris Farm and other smaller retailers. A bricks-and-mortar space has been the long-term aim since the brand's inception – a recipe testing site as well as a space to celebrate Australian producers with carefully created, thoughtfully prepared farm-to-table treats.
The design came from co-owners Sam Moussa and Jacky Sun, who wanted to bring a boutique bakery to the area. "It makes a difference to be in a space that feels great, and the feedback we're getting is proving that locals feel the same," Moussa tells Broadsheet.
Recycled timber is used to form the walls and the outdoor seating, and potted plants occupy every corner. The raw, organic aesthetic is a reflection of the This Is Us ethos: to celebrate what Australia naturally has to offer.
Alongside the signature This Is Us sourdough muffins and crumpets, the menu features a wider range of savoury items, all made from carefully sourced Australian ingredients. With single-origin Australian flour as standard, the This Is Us team are admirably discerning about the provenance of their ingredients.
"We've been to the farms, we've spoken with the farmers, we've driven the tractors; it's important to us to not only know but understand where our ingredients come from," says Moussa.
The chicken and leek pie uses free-range chicken from a farm in New South Wales, and the lamb is sourced from Outback Lamb, an award-winning family farm in Tullamore (central-west NSW). The savoury menu also includes a range of sandwiches, including a loaded Reuben made with smoked Australian brisket.
The delicately designed sweets range includes a gluten-free passionfruit and lemon tart and a fudgy chocolate cake: a French-inspired, intricately crafted tower of chocolate crema and whipped caramel chocolate. The cafe also serves specialty coffee from Marrickville's Black Market Roasters, as well as a range of teas and sticky chai.