Recipe: Chocolate and ginger rice pudding – The Spinoff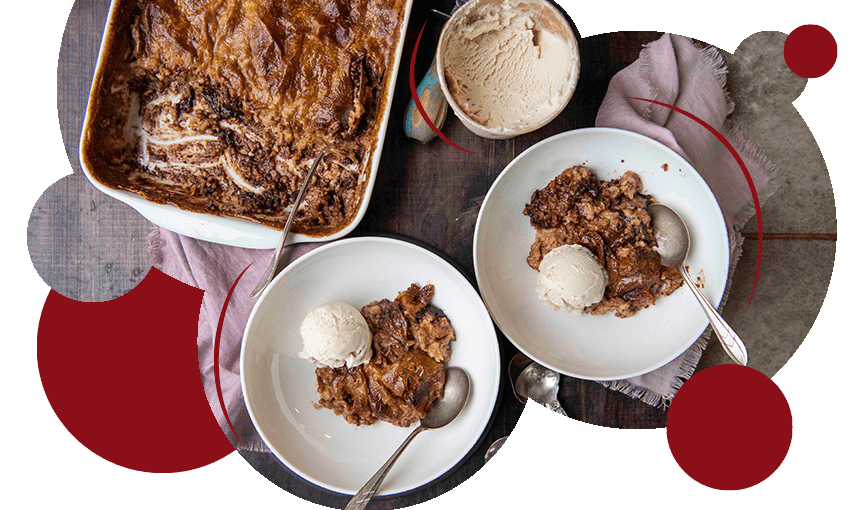 The perfect pud for wrapping up a week of wild weather.
As I type these words the wind, like invisible puppet hands, pushes and pulls orange-brown leaves and they dance across the rain-streaked window panes like little ballerinas. My three kids and I are in isolation. It's day one. The house has been trashed and I'm not yet sure what will grace the dinner table come five o'clock. But if it all feels too hard then I'll just serve this chocolate and ginger rice pudding instead. I'm sure the kids won't mind!
CHOCOLATE & GINGER RICE PUDDING
Serves 6-8
⅔ cup rice
⅓ cup brown sugar
1 teaspoon vanilla bean paste
2 tablespoons freshly grated ginger
1.25l milk
1 cup cream
35g butter, roughly chopped
130g dark chocolate, broken into pieces
Preheat the oven to 160°C. Put the rice, sugar, vanilla paste and grated ginger into a medium-sized baking dish. Mix well to combine.
Carefully pour in the milk and cream then dot with the butter and dark chocolate.
Put into the oven and bake for 2 hours before serving. Delicious served with a scoop of vanilla bean ice cream or a good splash of cream.
The Spinoff's first-ever food newsletter is here. Written by Charlotte Muru-Lanning and produced in partnership with Boring Oat Milk, The Boil Up is your weekly catch-up on what's happening in our diverse and ever-changing culinary landscape, covering the personal, the political and the plain old delicious.

Subscribe to The Boil Up here and go in the draw to win a three-month supply of Boring Oat Milk and cool Boring merch.