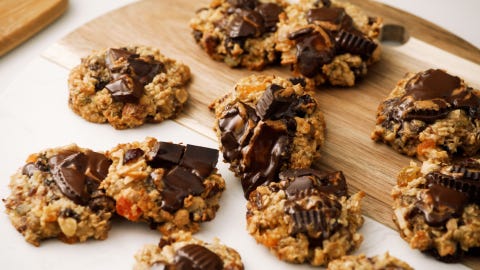 True to their name, these chewy trail mix cookies are a satisfying snack on a hike, but they also make a delicious dessert any day of the week. Chock-full of trail mix, shredded coconut, and quick oats, they're a hearty pick made even more mouthwatering with a special ingredient: JUSTIN'S® Dark Chocolate Peanut Butter Cups chopped up in the dough and added as a topping once the cookies are baked!
Advertisement – Continue Reading Below
Yields: 18
Prep Time: 0 hours 5 mins

Total Time: 0 hours 15 mins

1 1/2 c.
trail mix with fruit and nuts, roughly chopped
1/3 c.
shredded coconut (optional)
1/4 c.
virgin coconut oil, melted
Preheat oven to 350º. In a large bowl, mix trail mix, oats, flour, coconut, if using, and salt. Add applesauce, honey, oil, and egg and mix well to combine. Fold in two-thirds of JUSTIN'S® Dark Chocolate Peanut Butter Cups.
Using a 1 1/2″ scoop, space dough 2″ apart on a parchment-lined baking sheet. Press down and pat each to a thick 1/2″ circle. Bake until edges are firm and cookies are golden brown, 10 to 12 minutes.
Carefully top each cookie with remaining chopped peanut butter cups. Let cool before serving.
This content is created and maintained by a third party, and imported onto this page to help users provide their email addresses. You may be able to find more information about this and similar content at piano.io
Advertisement – Continue Reading Below