Nico's grilled peaches with honey thyme mascarpone – RTE.ie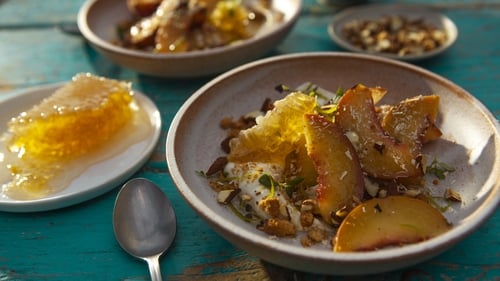 Fresh and juicy peaches grilled over flames pair perfectly with honey thyme mascarpone.
Ingredients
5 peaches, destoned and halved
250g mascarpone
Zest of 1 lime
1 tbsp honey
2 thyme sprigs
½ tsp vanilla extract
2-3 gingernut biscuits, crushed
White chocolate, grated
Whole almonds
Method
Grill the peaches over a medium heat until soft and nicely charred (approx 6-7mins).
In a mixing bowl whisk the mascarpone with the thyme leaves, vanilla extract, lime zest and honey.
Toast the almonds on a skillet on the grill and roughly chop.
To serve:
Slice the grilled peaches into segments and pile on top of the mascarpone.
Sprinkle the almonds over the peaches and grate over the white chocolate, crumble the biscuits on top.