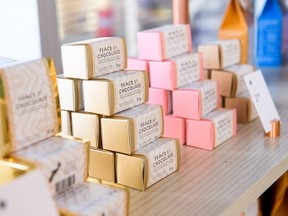 Reviews and recommendations are unbiased and products are independently selected. Postmedia may earn an affiliate commission from purchases made through links on this page.
Article content
Peace is such a peaceful word.
Article content
It's also incredibly profound. As is the story of the Hadhad family, master chocolatiers who once ran one of the most successful chocolate businesses in the Middle East and Europe from their homeland in Damascus, Syria, yet were forced to flee in 2012 after their factory was destroyed in a bombing that also took down the only world they ever knew.
The Hadhads found themselves as refugees in Lebanon, and the only thing of real value they packed with them when they left their home were the recipes for the their award-winning chocolates. For three years the tight-knit family grieved for what they once had as they lived in a refugee camp with little hope of having a normal life again, let alone putting down roots anywhere else.
Article content

It was at this time that Tareq Hadhad, the family's son and eldest sibling, started applying to country after country, about 14 in all, looking for safe passage. And every single door was closed to his family's request.
Except for one: Canada.
On a bitterly cold winter night, Tareq landed in Antigonish, Nova Scotia, being greeted by a group of strangers, joyfully waiving Canadian flags, signs of welcome and giving hugs of peace.
"And do you believe the signs were both in Arabic and English?" said Tareq during a recent phone interview, his voice still marveling at the welcome he had received. "For three years we found ourselves as refugees with little opportunity or hope … when our family was invited to Canada, we had no idea what our lives would be like. Canada was a dream come true – the country made our dreams come true.
Article content

"I can tell you this is a love story between my family and Canada."
In a huge way. Tareq was the first to arrive, on a scholarship and private sponsorship package – and he was the first to experience a traditional Canadian winter. "The cold was shocking but in a good way! It didn't take long to adapt and helped me to integrate.
"Plus winter brings people together."
Tareq says that, among many other firsts he experienced was "the kindness and compassion of the people who opened their hearts and homes to make us feel welcome." Once the rest of his family arrived, including patriarch Issam Hadhad, the chief chocolate maker, Tareq set out to rebuild the company and set new roots in a new land.
More than this, with the support of the family's new Antigonish community, if not all the people of Nova Scotia, "we rebuilt our chocolate company and started doing what we loved the most: Making chocolate."
Article content

Chocolate with a powerful message – the company, officially named Peace By Chocolate, (peacebychocolate.ca) was founded in early 2016, with the famed treats first being sold at local farmers' markets before demand saw a new plant being built to keep up with the orders. The company grew – and continues to grow with additional new employees and new varieties. The demand has grown to encompass the globe – and into the stratosphere as Peace by Chocolate even made it to space to be enjoyed on the International Space Station.
Many world leaders have been gifted with the chocolates, and Tareq, the company's CEO as well as board member at Invest Nova Scotia as well as one of Nova Scotia's most famous philanthropists, is in great demand as a keynote speaker to talk about his experiences.
Article content
As well, part of the company's mandate is to give back, and a portion of chocolate sales goes towards the Peace on Earth Society, a Nova Scotia-registered organization that donates to peace-building projects around the world.
The amount of giving back the Hadhad family has done since arriving on Canada's shores is unprecedented – a book on the family's life is now available. And their story is now being told via the film, Peace By Chocolate, directed by Jonathan Keijser, a movie that tugs at the heartstrings as it details the family's rise from homesick refugees to proudly embracing their news lives as Canadians living in Canada.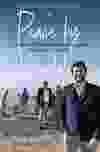 How true was the film to the family's story? "It's not a documentary but inspiration was drawn from what happened to us when we arrived in Canada," said Tarek. "The movie is an amalgamation of multiple stories of refugees as well as my own family's journey."
Tareq, who became a Canadian citizen along with his family a few years ago, said that "60% of the movie is true but drama was included to bring perspective to the story, as well as tell the bigger story of new immigrants to a new country."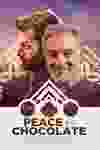 Did he ever think his life would turn out this way? "We had no idea when we started selling our chocolates in the farmers' markets how it would turn out. Now our chocolates are worldwide, sharing stage with some of the most powerful people on the planet.
"It's beyond our dream. We have Canada to thank."
(The film is available now, and being celebrated at the Oakville Festivals of Film & Art https://offa.ca.)